PARTNER POST – Get creative with any of Castello's uniquely crafted cheeses. Click here for a $1 off coupon to create your own gourmet masterpiece.
Nutty Havarti cheese is paired with Nutella and raspberry jam to make the ultimate stuffed grilled cheese sandwich.
By Sarah Fennel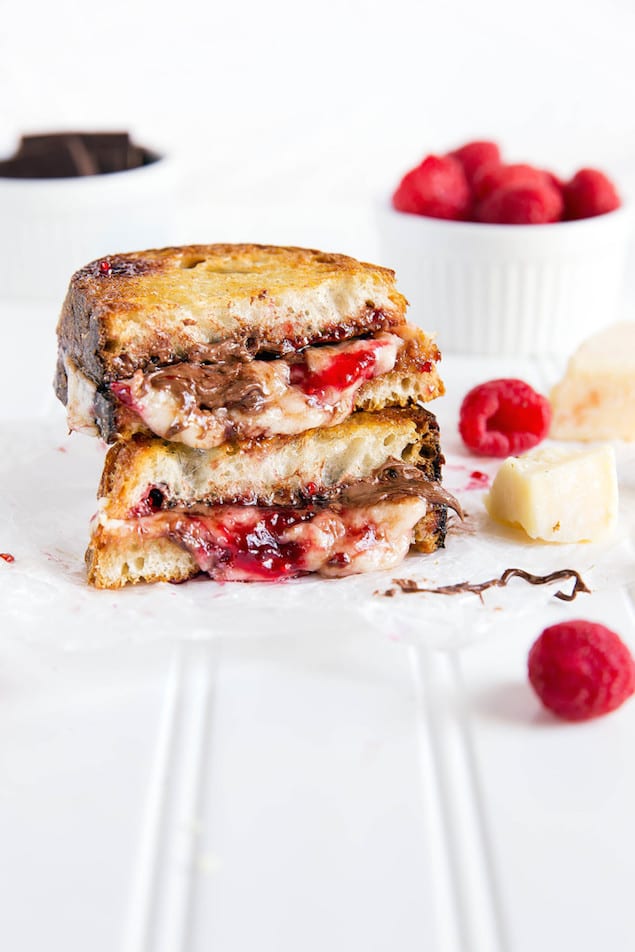 Say hello to Raspberry and Nutella Stuffed Grilled Cheese.
I've always been curious of grilled cheese with a sweet element, but haven't got around to making one. That is, until now. And friends, I haven't looked back. Mostly because I'm too busy polishing off my third G.C. this week.
Or is it fourth? Oh jeeze…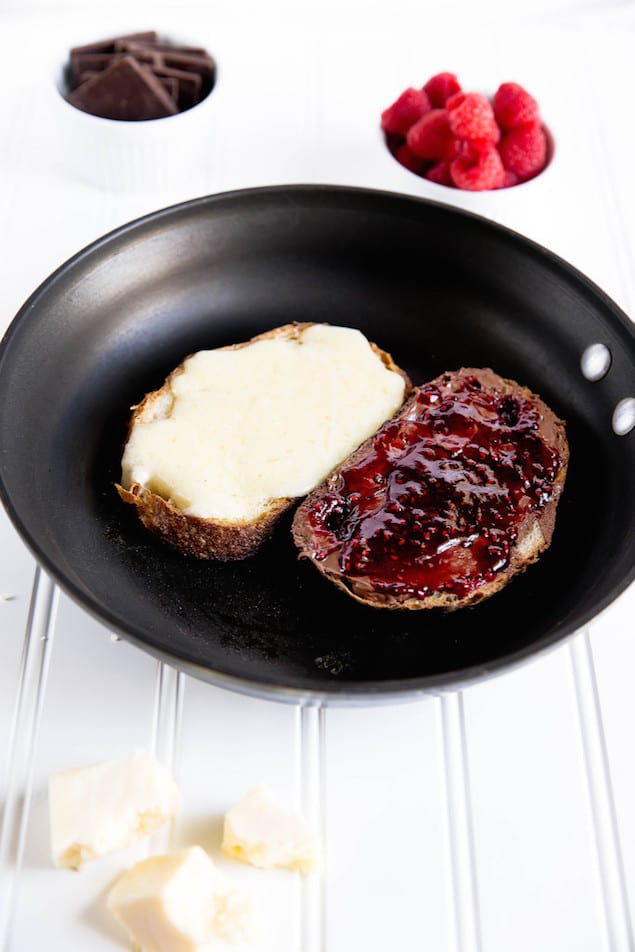 I can tell you a few reasons why they're so mouth-watering. First and foremost, this cheese. Yummmmmm. I used Castello's Aged Havarti, a semi-hard cheese with exceptional flavor. I've now eaten this cheese with everything- apples, rosemary crackers, stuffed peppers, and even on its own. The cheese has tangy and slightly nutty notes to it, which I just love.
Which brings me to my next reason. The nuttiness of this cheese is a huge reason why it pairs so perfectly with Nutella. Yes, the chocolate hazelnut spread we all know and (hopefully) love. I did a few test batches of this G.C. with chocolate instead, and they paled in comparison to those with Nutella.
They pair together like Batman and Robin.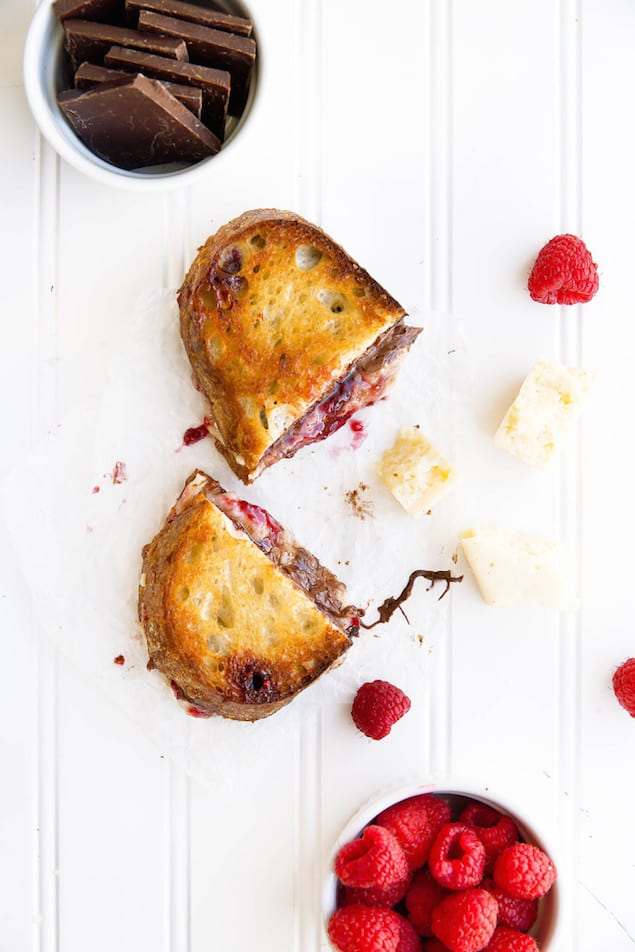 What I'm trying to say is: Havarti cheese pairs perfectly with Nutella. You can casually bring that fact up at your next cocktail party. You're welcome.
Last, the raspberries. The cheese's tanginess is well-accentuated by tart raspberry jam. And since Nutella pretty much goes with everything, the raspberries were a clear pairing. They provide a brightness to the grilled cheese that cuts the richness of the Havarti and Nutella.
Feed Your Creativity — Havarti Stuffed Grilled Cheese with Nutella and Raspberry
2 thick slices artisan bread
1 tablespoon butter, room temperature
1.5 oz (or however many slices you'd like!) Castello Aged Havarti Cheese
2 tablespoons Nutella
1 tablespoon raspberry jam
Heat a griddle or large pan on medium high heat until hot, then lower to just above simmering and let sit for 3 minutes.
Meanwhile, butter the outsides of your bread, spreading evenly to the edges. Place butter-side down and top one slice with Havarti cheese and the other with Nutella.
Place both slices butter-side down in pan and cover with a lid. This will help your cheese to melt without burning your bread. Keep an eye on the toasted-ness of the bread and the melted-ness of the cheese. It should take 3-5 minutes to grill, depending on the strength of your flame.
Just before taking the grilled cheese off the heat, spread the Nutella side with a spoonful of raspberry jam. Remove both slices from heat and sandwich together. Cut and serve immediately!