Gluten Free Butternut Squash Muffins with Ginger, Almond and Orange
With aromatic spices that scream fall and the perfect marriage of ginger and butternut squash, there is everything to love about these muffins. Especially when your kitchen smells delightful while they bake.
By Rita Anastasiou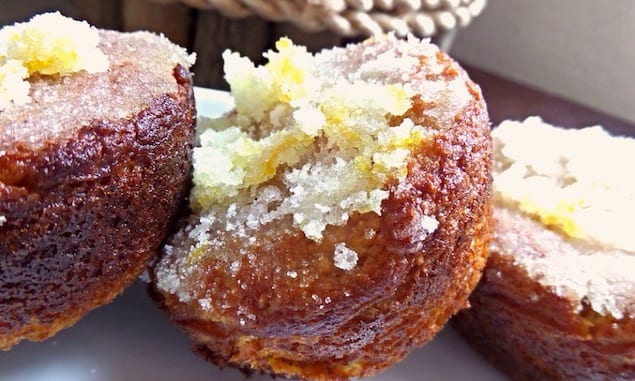 The weather is finally colder here in Las Vegas and is time to make some desserts with pumpkin and butternut squash which I love deeply! With all these aromatic spices that scream fall,and the perfect marriage with ginger,there is nothing to hate! And every time I bake with those flavors, the whole house is scented so beautifully.
In Greece, we don't use butternut squash as often as they do here, mostly in savory pitas with feta cheese, which is really delicious. The muffins were amazingly scrumptious and of course you can't eat only one!
Gluten Free Butternut Squash Muffins with Ginger, Almond and Orange
1 medium butternut squash (or 2 cups butternut squash purée)
1 cup/220 gram brown sugar
1 teaspoon ginger
1 teaspoon cinnamon
¼ cup butter,melted + 2 tablespoons butter at room temperature
¼ teaspoon nutmeg
½ cup/64 gram coconut flour
1½ cup/ 194 gram almond flour
5 eggs
1 cup /340 gram applesauce
1 teaspoon baking soda
1½ teaspoon baking powder
2 teaspoons vanilla extract
¼ teaspoon clove
½ teaspoon almond extract
zest from an orange
1 teaspoon sea salt
Preheat the oven at 400 F/ 220 C. Cut the edges of the

squash,cut

it in

half,remove

the seeds.Line aluminum foil on a sheet pan. Place the

squash,cut

sides facing

up,add

the 2 tablespoons of butter,1/4 cup of the brown sugar and a little bit of cinnamon. Cover with foil and bake for

hour

to hour and a half. It all

depends

the size of the squash. When is

done,remove

it from the

oven,melt

it cool down and with a tablespoon scrape it and purée it in a food processor.
Preheat the oven at 350 F/180C.
In a small

bowl,put

the dry

ingredients,including

the spices and orange zest.
In another medium

bowl,beat

with a hand mixer the

eggs,the

applesauce,the

melted

butter,the

vanilla and almond extract and the remaining brown

sugar,at

medium speed For two to three minutes.
Add the dry ingredients to the egg mixture And beat till all the ingredients are well incorporated.
Grease a muffin tin and pour the mixture. Fill ⅔ of the muffin tin.
Bake for 18-25

minutes,until

there are golden brown and when you sink a toothpick comes clean.